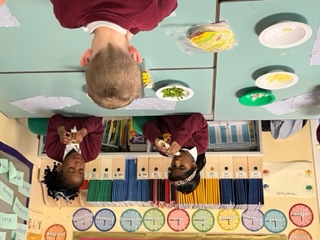 Wow!
What another busy term in Hedgehogs Class!
We have loved reading 'The Twits' by Roald Dahl and met the grumpy and extremely rude Mrs Twit this term!
We were horrified to hear about how she and her husband treat children and their poor pet monkeys. The children wrote some very accurate descriptions of her!
Then, the monkeys left us some letters and a treasure hunt, so we found out how they escaped the Twits' garden and got back to Africa.
We have also enjoyed designing and making a healthy wrap in D&T – something the Twits need more of!
The children tasted many different combinations of foods before deciding what to add to their own. We enjoyed our trip to Pizza Express and we all made some delicious pizzas.
Art week was all about abstract art. We have loved learning about the artist Jen Stark and her use of colour and crazy melted rainbows. We also loved creating our own abstract art – we could be as creative and crazy as we liked!
All the staff have been very proud of all the children this term after completing their SATs. They all had such a super attitude, tried their best, and really showed off everything they have learnt. It was so good for us to really appreciate just how far the children have all come this year. We're so impressed! Well, Done to Everyone!
Now go and have a super fun half term holiday & we'll see you for lots more fun learning in Term 6.
(How is it term 6 already?!)
Mrs Phillips, Mrs Clarke, and Miss Gillett