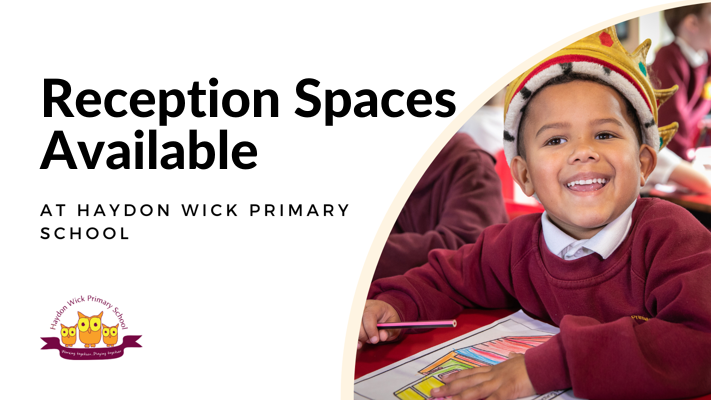 We have a fantastic Reception Class team at Haydon Wick Primary School. Mrs Hambidge teaches on Mondays and Tuesdays, and Miss Lawro teaches on Wednesdays, Thursdays, and Fridays. Your children will also be supported every day by Mrs Hawkins, the class teaching assistant, and by Mrs Goodall for intervention groups.
We also have the Honey Bee Class, which is a mix of Reception and Year 1 pupils. Miss Law teaches this class, and the children will also be supported by the class teaching assistant, Mrs Greenaway.
Both of our Reception classes offer pupils an engaging and fun learning environment where they will develop their subject knowledge through our innovative curriculum. Throughout the year, they will cover a wide range of topics, from self-discovery to learning about animal lives, and much more. Our curriculum is not only designed to help children develop their subject knowledge, but also to grow their social skills and make friends through interactive play.
Our school grounds are another factor that will immensely help your child thrive throughout their time at our school. Our sprawling play area allows our pupils to explore new surroundings, play with fun equipment, and make lifelong friends. We are proud to have such an excellent building, where no matter where you go, you can find one of our supportive and caring staff members who work hard to ensure our building is as safe and welcoming as possible.
We are happy to announce that we have spaces available for our 2023/24 Reception cohort, and we would love to have your child join our Reception class. If you would like to contact us for more information, please click here: (Link to Contact Page). You can also contact us and check our admissions policies here: Admission Page
If you would like further information on our Reception classes, we encourage you to check out our classroom pages. You can find the link to our classroom pages here: Class Pages. On these pages, you can find more information about our school routines, uniform requirements, and other essential information.
We look forward to hearing from you and welcoming your child into our school community.